Posthuman Pathways (2014) was the second game published by Genesis of Legend Publishing. It's a game about how technology changes us for good and for ill. It explores the question of what we will sacrifice in the name of progress.  You play three different characters whose intertwining stories explore different facets of the alienating world.  We were honoured to receive an ENnies Judges Spotlight for this game in 2015.
We are very proud of this little game and the kinds of intimate stories it can help you tell together with a group of two other friends. After hearing some exciting actual play stories we decided it was time to refresh the game. We just produced a brand-new PDF version which you can download, read on a tablet, or print at home. If you already have a copy of the game on itch.io or drivethrurpg, we have already upgraded you free of charge.
We adopted an experimental form factor for this game, printing it on a set of five full-colour, offset printed pamphlets. You pass these pamphlets around the table as you play, taking turns in the roles of the Trailblazer, Voyager, and Guide. We still have copies from our original print run and want to put them in your hands. That's why we are doing a special promotion right now.
For only $20 Canadian (~$15 USD), we will send you a professionally printed copy of the game as well as the PDF, while supplies last.  We are paying all the costs to ship the game anywhere in the world where my postal service will reach.(1)    While the future might be unequally distributed, we want to make sure everyone gets a chance to play.
Posthuman Pathways – Global
$20.00
(1) We are unable to ship to Afghanistan, Belarus, North Korea, Lao, Libya, Nicaragua, Russia, Somalia, Syria, Ukraine, or Yemen.
---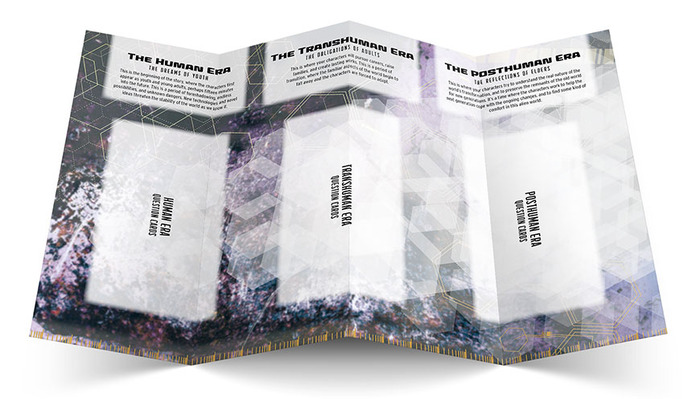 Posthuman Pathways is a one-shot roleplaying game that focuses on exploring what individuals are willing to sacrifice in the name of progress. It explores the themes of transhumanism, seen through the eyes of the player characters during their lifetimes. This game is both diceless and gmless, designed for three people to play over a single 3-4 hour session.
2015 Ennie Award Winner – Judges Choice
---
Audiences
Transhumanism Fans
Social Science Fiction Fans
World-builders
Media
Xenogenesis aka Lilith's Brood
Bladerunner
Minority Report
---
Key Information
ISBN: 978-1-7771100-2-4 Code: GLP005 Format : Five full-colour pamphlets in a chocolate-bar shaped box, PDF included.